The user interaction of a website pop-up is important to utilising it properly. When popups come at the incorrect moment on a website or landing page, they are most aggravating. The first thing you do when you see a pop-up is to close it because this happens frequently before you have had a chance to read the website.
It takes consideration and awareness of your client's demands, comfort, and motivation to create a creative, eye-catching pop-up. Here are seven strategies to make your pop-up advertisement more successful and more user-friendly for your website. But before we get into it, take a look at our popup template library, where you can choose the best popup templates for your industry.
What's a Good Pop-up?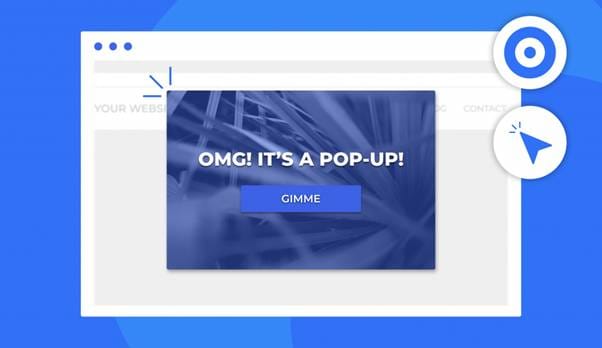 Here are issues that a proper pop-up can solve:
Conversion
Targeted activities are crucial for internet firms that offer products or services. A pop-up with the appropriate content and appealing design may quickly transform your website into a significant sales hub.
Promotion of the brand
Engaging the user and keeping them on your website or app is your primary objective. It may be accomplished through a pop-up that appears at the appropriate moment and location.
Saving time
A person's loyalty will rise if they can subscribe to alerts without having to register. You also gain a new subscriber and potential customer at the same time. The average conversion rate attained with a pop-up is 3.1%, according to Sumo research. However, the efficacy of a well-planned, effective pop-up may earn you about 9.3%.
7 Secrets to High Converting Pop-Ups
The best way to use pop-ups varies depending on the situation. However, we can provide you with a few pointers on how to utilize pop-ups wisely. How can I acquire the greatest pop-up designs for websites? Which formats are appropriate? We'll work things out immediately.
1.     Exit-Triggered Pop-Ups
Exit-triggered pop-ups employ mouse monitoring to identify the direction and speed of the pointer, estimating with astonishing accuracy when your visitors are about to shut the tab, open another one, or click the browser's back button. Due to the lack of a mouse to track them, they are inoperable on mobile devices. Exit pop-ups are excellent for representing an offer. This is because prospects frequently want a second query. Exit popups work best when used as follows:
Trial or demo – having a user fill out a form for a trial or demo. It is low risk and when asked a second time, you can get a 10% or more lift.
White paper or newsletter – offering a whitepaper or PDF with helpful information works very well. It can respond to the query they were unable to locate on your website and stop them from leaving. Additionally, this works well for getting users to sign up for newsletters.
2.     Link-Triggered Pop-Ups
When a user hits a text link or an image in the page's content or sidebar, link-triggered pop-ups appear. The link or click popups advantage is that the user is in charge. According to studies, users are more likely to finish a procedure if they take the initiative to open a popup. For instance, when displaying the identical form, a text- or image-linked popup occasionally has a higher conversion rate than a form on a landing page.
3.     Time-Triggered Pop-Ups
After the user has been on the website for a while, time-triggered pop-ups display. Any time, from 3 seconds to minutes, is acceptable for entry. It will be necessary to test the real-time for each offer or style of popup message. This is so that the popup will correspond to the user's position in the sales funnel. While a user at the top of the funnel who is being asked to join an email may be able to be requested sooner, a user at the bottom of the funnel may have the popup presented later.
4.     Scroll-Triggered Pop-Ups
Pop-ups that are triggered by scrolling are excellent for engaging users. We can tell if a person has read the page or is seeking anything on it if they have scrolled halfway or farther down the page, for instance. A popup that may provide them with the information they want is a nice idea at this point.
5.     Mobile Popups
The pop-up has to be distinct because the mobile experience differs greatly from the desktop experience. Mobile users have a shorter attention span, and the gadget displays itself differently. To create successful mobile popups, use these tips:
Reduce your forms to as few fields as possible;
Do not use images to increase download time;
The big advantage of sliders is they are both desktop and mobile-friendly and they have the "X" button to close the slider.
6.     Popup Frequency
A popup that appears too frequently may irritate the user. Several important things can affect how popups are shown by you:
Only shows on a specific page;
The number of times they see the popup in one session. For example, only three times;
The number of visits. For example, the second time they come to the site they see the popup;
Not showing it after the first time or after an action. This is important so that users do not fill it out twice. The most common setting is the popup will not show again for 30 days.
7.     Page Targeting
The user can see a popup that is pertinent to what they are reading thanks to this feature. There are several ways to configure page targeting:
By page or by directory – You can show a specific popup for products and a generic one for the home page.
By a dynamic setting in the URL – If they do a particular search or they come to the site from a particular ad.
Conclusion
Making a functional and efficient pop-up for your website is not difficult. Think it through, take into account the specifics (language, colours, etc.), choose your goal, and simply execute it. Pop-ups may be a powerful tool that generates measurable results with the correct marketing strategy and a sense of proportion since they can provide information or answer queries, which is advantageous to both you and your visitors.