8 Ways to Prepare for Your First Job Interview
 September 09, 2020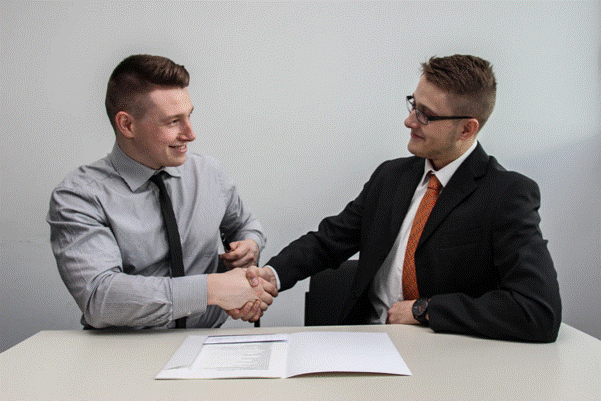 Let's face it, having a job interview is never a stress-free experience, but it's especially nerve-racking if you're doing it for the first time. However, entering a workforce doesn't have to be a dreaded situation. After all, most of us get cold feet when trying to do something new.
So, don't worry. Feeling a bit anxious is normal but don't forget to see it for what it is – an exciting new chapter in your life. These are 8 ways that will make it possible for you to cope better with all those emotions and land a job of your dreams.
Look into a Company Background
Thanks to the internet, we can now find out pretty much everything we need to know about any company in the world. Most of the employers these days have a website where they clearly stipulate the firm's history and the mission they are set to accomplish.
So, make sure you check out their website and any social media pages. There you can find comments the customers have made regarding the services and products the company provides which will give you an even clearer idea of how the business is run. Finding out details about the firm will make you feel more prepared and comfortable during the interview.
Learn About Job Position
Every job position comes with a certain set of requirements. Most ads state exactly what would be expected of you if they decide you're a perfect fit for their team. Examine this and ask yourself why would you be the best choice for them.
Self-assessment of this sort will make you more confident on the day of the interview. As experts from Job Interview Questions know well, it's important to make yourself stand out from the rest of the applicants. If you already know someone working at the company, ask them about the interview process, the atmosphere among the coworkers, and the company's politics. The more you know about what they are looking for in an employee, the easier will it be for you to make them understand why they should hire you.
Dress Appropriately
First impressions are important! When you enter that interview room, you want to give out a professional vibe. No matter what you'll be wearing in your daily job, it's important to show your future employers you are taking the job opportunity seriously and that you appreciate their time. And you will not convey this sentiment if you come in wearing short pants and flip-flops.
This doesn't mean you have to come in wearing a suit but a simple and appropriate attire would be enough. In most situations, business casual would be just fine. Something like a nice, collared shirt and pants (not jeans!) would be considered fitting for most interviews. And if you're simply not sure, don't be afraid to ask an older family member or a friend who has already crossed that bridge.
Don't Forget to Practice
Another thing that will help you calm down your nerves is to practice interviewing before you go in. Most of the time, employers ask the same questions like "Tell me something about yourself.", "Why do you want to work for us?", "What's your biggest weakness?" and "Why should we hire you?". Make sure you have prepared and rehearsed answers to these questions.
Also, you can ask a family member or a friend to ask you these questions or simply practice while looking in a mirror. This will make you clear your thoughts and be more secure in yourself.
Prepare Questions for the Interviewers
Don't be afraid to ask questions. Actually, most of the time, at the end of the interview you will be asked "Do you have any questions for me/us?" After all, it's not only if you're a good fit for the company but if the company is a good fit for you as well.
This will show them that you are taking this opportunity seriously and that you are motivated. Depending on the information you got during the conversation, some of the questions you should consider asking are:
What are the day-to-day responsibilities of this job position?
Is my performance going to be measured? And how often?
What are the departments I will have to collaborate with regularly?
Are there any strict company rules I have to be aware of?
Don't Be Late
As already mentioned, first impressions matter. Not being there on time will set the interview off on the wrong foot even before you have entered the room. You don't have to be an hour early but 10 to 15 minutes before the scheduled meeting will be enough.
So, don't forget to plan your trip to their office. Take into account how much time you need, maybe do a practice run, and take into consideration any possible delays such as road closures and traffic jams.
Body Language is Important
Be confident but not smug. From the moment you enter the building, make sure you are cool and calm. Taking a deep breath and exhaling slowly will help you with your anxiety and make you feel more confident.
When you enter a room, smile and have a firm, but not bone-crushing, handshake. Communication is also done through your posture and stance, so sit tall with your shoulders back. You will be seen as a stable person by the interviewer and those are the ones that can do the job right. This kind of body language will send a positive message and increase your chances of landing the job.
Study Your Resume
Even for your first job, it's important to have a good resume. Since you don't already have working experience, make sure you have listed all your academic accomplishments, memberships in clubs, and volunteering work.
During the interview make sure you elaborate on the things mentioned in your resume. This is your time to shine and to show them you are a motivated individual. Also, bring several copies of your resume.
These tips will help you stride into the interview room with more confidence and increase your chances of getting the job you want. So, study them carefully and you should be good to go.