Every business has security protocols to block employees from accessing certain content on the internet when using the company's network. This is to protect the business' network and servers from data breaches and malicious content.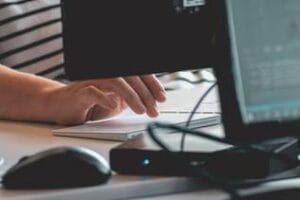 However, most people have become tech-savvy enough to bypass these security protocols with the help of online instructions and free VPNs and proxies. Continue reading and learn how to protect your business with a reliable proxy service from Smartproxy and why it's necessary to stop placing your organization at risk.
What Are the Key Risks to Your Business
Whether an employee uses measures like a VPN to bypass your security protocols to buy something from an eCommerce website or check the likes on their social media posts, your company could be just a few clicks away from total disaster.
It's unfortunate, but there may also be some employees that have sinister intentions, like using your business network to access inappropriate content. It's a fact that internet users prefer convenience over common sense, and hackers take advantage of it daily. It's, therefore, up to the business to ensure that its network and important devices stay safe.
To understand how to protect your company, you must first understand the risks. Let's have a quick look at the most critical risks.
Breach of Sensitive Information
Everything is digital today, including your company's employee and client information that may contain sensitive financial and personal data. This could have detrimental effects on the business should this data get exposed.
The probability of your servers and network being attacked increases significantly when employees can access anything they want on the internet. Additionally, your risk is even higher if you implement a Bring-Your-Own-Device (BYOD) policy in the workplace.
Risk of a Decrease in Productivity
Decreased productivity will ultimately make your company inefficient and lose money due to distracted employees. As the saying goes, time is money. Your IT admin staff should block particular platforms and websites such as social media sites, online casinos, gaming sites, and more to prevent your staff from becoming distracted while at work.
Business Etiquette and Decency
Every business has certain operational etiquette and decency guidelines for its employees. Internet usage policies are set in place to prevent staff from accessing inappropriate content online while at work. This could include, but isn't limited to, crude content, websites that promote hate speech, and pornography.
Bypassing Security Protocols Made Easy
Everything you need to know can be Googled these days, including ways to bypass workplace internet restrictions. There's a step-by-step guide for everything online, and if you don't need a lot of tech knowledge to install proxies and VPNs or change DNS settings.
However, most users don't have the knowledge of the risks of using this software or what to look out for when installing these technologies. They simply use them as a quick solution to access banned content with no idea of the repercussions.
Bypassing security protocols has been made easy with the following technologies. You may not be aware that some of your staff are already using these, so we've included additional preventative measures.
VPNs (Free Virtual Private Networks)
The most common bypassing method employees are using is free online VPNs. Free VPNs typically do more harm than good. They're straightforward to install and can bypass the company's web security filters. Free VPN proxies are considered in the industry as more hazardous than VPNs with a paid subscription.
Preventive Measures:
IT admin can install protocols that prevent installing VPN extensions.
The Administrators can block VPN (TCP-IP) ports (1723 TCP/ 1701 TCP/ 1194 TCP/UDP/ 10000 TCP/UDP/4500 UDP/ 500 UDP/ 442 TCP).
Administration passwords can be made mandatory for installing all software.
Free Proxies
Every smart business already uses a company proxy server that acts as a firewall and a web filter. Numerous free proxies online provide gateways between the internet and users' devices, and these can easily be installed by employees on company computers. Additionally, a proxy service can cloak all activities on the device from the firewall, allowing someone to browse the internet on your network for free. Unlike the paid versions of these technologies, these are extremely dangerous and can open up your entire organization to other attacks.
Preventive Measures:
Constantly monitor all internet usage closely.
The admin can add proxy categories to the list to restrict proxy usage, excluding your company proxy.
Administrators can update the Active Directory and the Group Object Policy to restrict users from using USB devices
IT admin can update settings in the web browser to restrict users.
The administrators can safelist company-owned devices and restrict BYOD devices.
Protect Your Business Now
If you combine restriction-based policies, intensify monitoring your users, and apply extensive administrative safeguards, you can enhance your security protocols substantially.