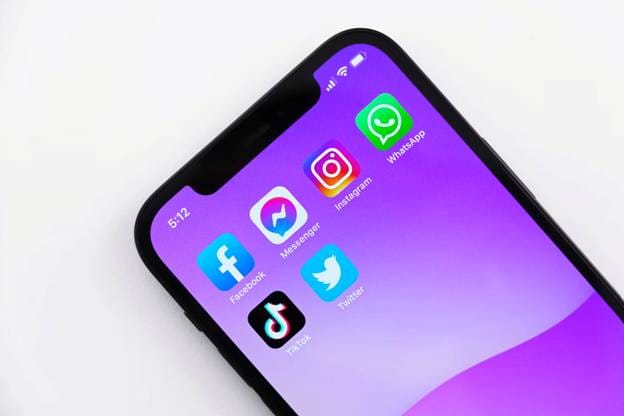 Social networking is a necessity when it concerns video channels of distribution. However, it demands finesse based on your particular business and the sites you utilize.
In short, there is no one-size-fits-all approach that works for all types of videos you post on social media. Additionally, some video formats just don't perform well enough on social sites when immediately imported there.
Even though it's smart and educational, a 60-minute webcast from your webpage is probably not going to be well-received by social media users due to its length.
When brainstorming ideas to create intriguing video content on social media, your organization should consider the aforementioned factors.
Hence, to help you out, we have compiled a checklist of seven must-try strategies while generating and posting social media videos — which will both inform and delight your followers.
7 Smart Social Media Video Ideas that are engaging, creative, and insightful
87% of businesses say that video marketing has given them a positive ROI (return on investment). And the most common types of videos used are explainer videos (71%), social media videos (67%), presentation videos (51%), and sales videos (41%).
As you can see, social media video marketing is critical for the success of your business.
Well, the following rundown of social media video suggestions will enable you to concentrate on your brand exposure initiatives.
The tips will be beneficial whether you're aiming to create an innovative series of videos to acquire more viewers or emphasize your staff and workspace to acquire more employees.
1.    Animated text videos
Several organizations utilize social media platforms to post social animated videos.
In fact, research from Facebook indicates that the willingness to buy goods and services grew by 74% for companies that use clips with animated texts.
Why? Users are more likely to re-share such videos within their networks.
After all, when your videos, say GIFs (graphics interchange format) are accompanied by texts, they become more accessible and easier to comprehend.
You can achieve this by converting spoken speech into written text — a process known as audio-to-text conversion.
It uses ASR (automatic speech recognition) software — that can quickly and accurately transcribe audio to text.
You can modify the transcripts yourself using online editors, or you can request manual transcription and have experts double-check it.
Including a transcript enables users to assimilate the information in your video because everyone learns in various ways.
Additionally, transcripts make it simpler to find specific terms or subjects in your videos.
1.    Adverts on TikTok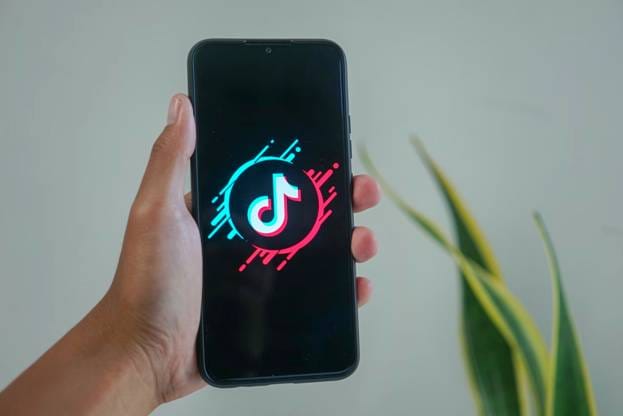 TikTok is a wonderful venue for companies to market in a manner that doesn't appear forced or artificial, given the steady popularization of engagement advertising.
Pro Tip: Enroll in TikTok for Business if you want assistance with brand promotion on the app. You may create economical advertising that connects with your audience with the help of the centralized platform. 
If you wish to learn more about how to set up a business account on TikTok, this guide will help you out.
Depending on the kind of campaign you're executing, TikTok has multiple video formats, with each ad type serving a distinct function and resulting in different outcomes.
a)     TopView Ads
When a user opens the application, TopView Ads are shown at the top of their TikTok feed and can last up to one minute.
It's the largest ad format TikTok offers, making it a crucial video marketing tool that may attract customers and raise your brand exposure.
b)    Ads in-Feed
Like Instagram or Snapchat story advertisements, In-Feed Ads work in a similar way. They should be one minute or shorter, run in full-screen mode, and be skippable.
They show up on the ForYou feed of the subscriber. Monitoring clicks, visits, click-through rates (CTR), viewership, and interactions can be used to gauge your campaign's effectiveness.
c)     Brand takeover ads
Brand takeovers let your company control an application for a single day. You can make three to five second-long video adverts that play at the top of the screen, similar to TopView Ads, except they cannot be skipped.
Your advertising can also contain links to both external and internal landing pages. Analyze engagements and the CTR to measure the efficiency of a brand takeover.
d)    Branded effects
You may develop branded effects, which people could use in their films, such as quizzes, labels, filters, or special effects.
It is a simple strategy that requires little work to market your brand. The interactive activities are a fantastic way to spread like wildfire.
e)     Branded hashtag competitions
Your business can hold hashtag challenges, in which you develop a hashtag and a reward for the winner.
For instance, DreamWorks organized a successful hashtag competition to promote its Netflix series, in which the company asked users of the TikTok app to record videos of themselves performing to the title song and submit them online with the tag #SpiritRidingFree.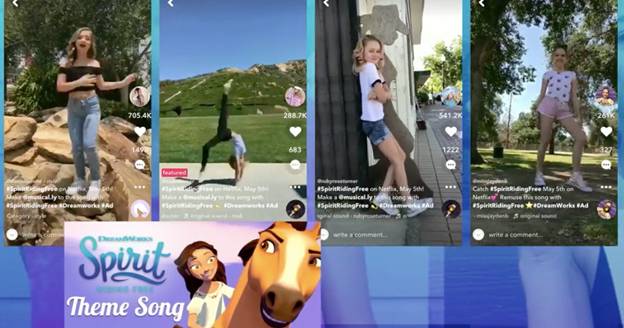 With more than 2.6 million responses and over 4.3 million total video views, the campaign touched over 34.4 million users.
Due to the fact that Spirit Riding Free is a kids' program and TikTok's user base tends to be younger, this is a wonderful example of a business realizing the benefits of conducting advertising on TikTok as opposed to another social network.
Its strategy had a strong demographic foundation and a platform-appropriate campaign design.
1.    Teaser videos for content
The purpose of a trailer for a new movie is to pique fans' interest in the film to the point where they will go see it in a theater and perhaps even tell their family and friends about it.
In light of this, be sure that all of your marketing initiatives point consumers to the sites that belong to your company. You won't have complete access to critical viewership statistics and user insights if you tweet a teaser for an incredible piece of content that simply leads to a video on YouTube.
Before a complete video feast, content previews serve as the ideal starters. They provide a quick glimpse of what to anticipate and direct your followers back to your website so that they can watch the full video there.
2.    Videos of live Q&A (Questions and Answers)
As the majority of channels now have inbuilt live streaming capabilities, social media platforms are ideal for hosting live Q&A discussions. It's not difficult to persuade users to view your company's live Q&A clip in almost the same way as they already watch their favorite content providers' live streams.
By allowing viewers to make comments in real-time, Q&A broadcasts are excellent for interacting with your existing following on social media. Your responses to live videos may persuade a viewer who isn't yet a buyer but is interested in your goods or services.
Even though it's really beneficial, a video Q&A doesn't only serve to draw in new clients. It can even help you to respond to inquiries about joining your team, enabling you to establish a positive reputation among potential employees.
In the days before a live event, encourage your fans to attend.
By inviting individuals to submit questions ahead of time, which will be addressed during the online Q&A, you may help accelerate audience interaction. You have the option to include both internal and external participants in the session.
3.    Videos of thought leaders
Videos featuring the views of thought leaders or SMEs (subject matter experts) are excellent consumable information for social networks.
Founders or CEOs (Chief Executive Officers) already command a lot of respect, so fans will probably be excited to see their videos and pick ideas from leaders. They'll be more likely to share your video with their peers to demonstrate to them that they keep up with the industry and related trends.
Asking your CEO or founder about the industry issues they are most interested in will help you get the video development process started.
Arrange brainstorming to analyze the business for approximately half an hour if they are unable to provide a clear response.
If possible, capture the conversation on tape and revisit it later to identify any recurring themes. Offer suggestions predicated on the meeting; if one is accepted, request your CEO or founder to gather their opinions around it.
To produce a brief social media clip, record them addressing these subjects while using that framework as an interview guide.
4.    Videos of client reviews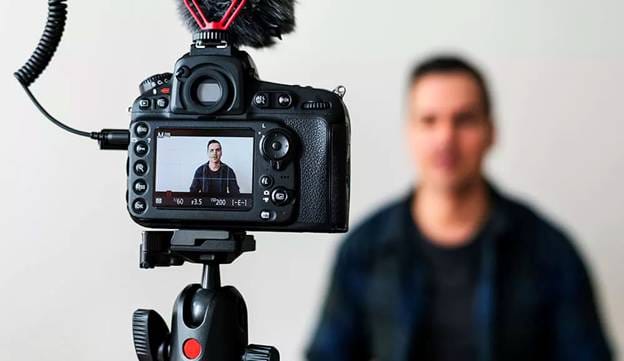 The best approach to provide social validation of your service or product is via customer testimonials.
By sharing the experiences of current and former consumers, this kind of user-generated material enables users to comprehend the benefits your company provides. You can use client testimonials as video advertising or promote them as organic material on your preferred social media platform.
If your objective is to generate leads, spending money on paid advertisements on websites like Facebook or LinkedIn can help the video reach a targeted audience.
If you currently have lengthy customer testimonial clips on your site, shorten them for online networks (between 30 and 60 seconds). Alternatively, request that a client make a little video testimonial which you may post online.
1.    Videos announcing new products
Nothing compares to introducing a brand-new item on social networks.
Doing such a social media campaign, whether it's a major release or other news, keeps your devoted followers involved and piques the interest of prospective customers.
Video clips for product launches and announcements are ideal for social sites as they only need to be entertaining and need not be lengthy.
Everything about these kinds of videos is exciting. In a formal video, if you've a new service and ramble over how it works, you'll probably not get the same response from viewers.
Conclusion
It takes some trial and error to get the greatest social media video ideas.
After one attempt, you might not have discovered the secret to success on all social networking platforms.
In order to determine which videos are most effective for your community, keep adjusting your content approach.
Author bio
Atreyee Chowdhury works full-time as a Content Manager with a Fortune 1 retail giant. She is passionate about writing and helped many small and medium-scale businesses achieve their content marketing goals with her carefully crafted and compelling content. She loves to read, travel, and experiment with different cuisines in her free time. You can follow her on LinkedIn.