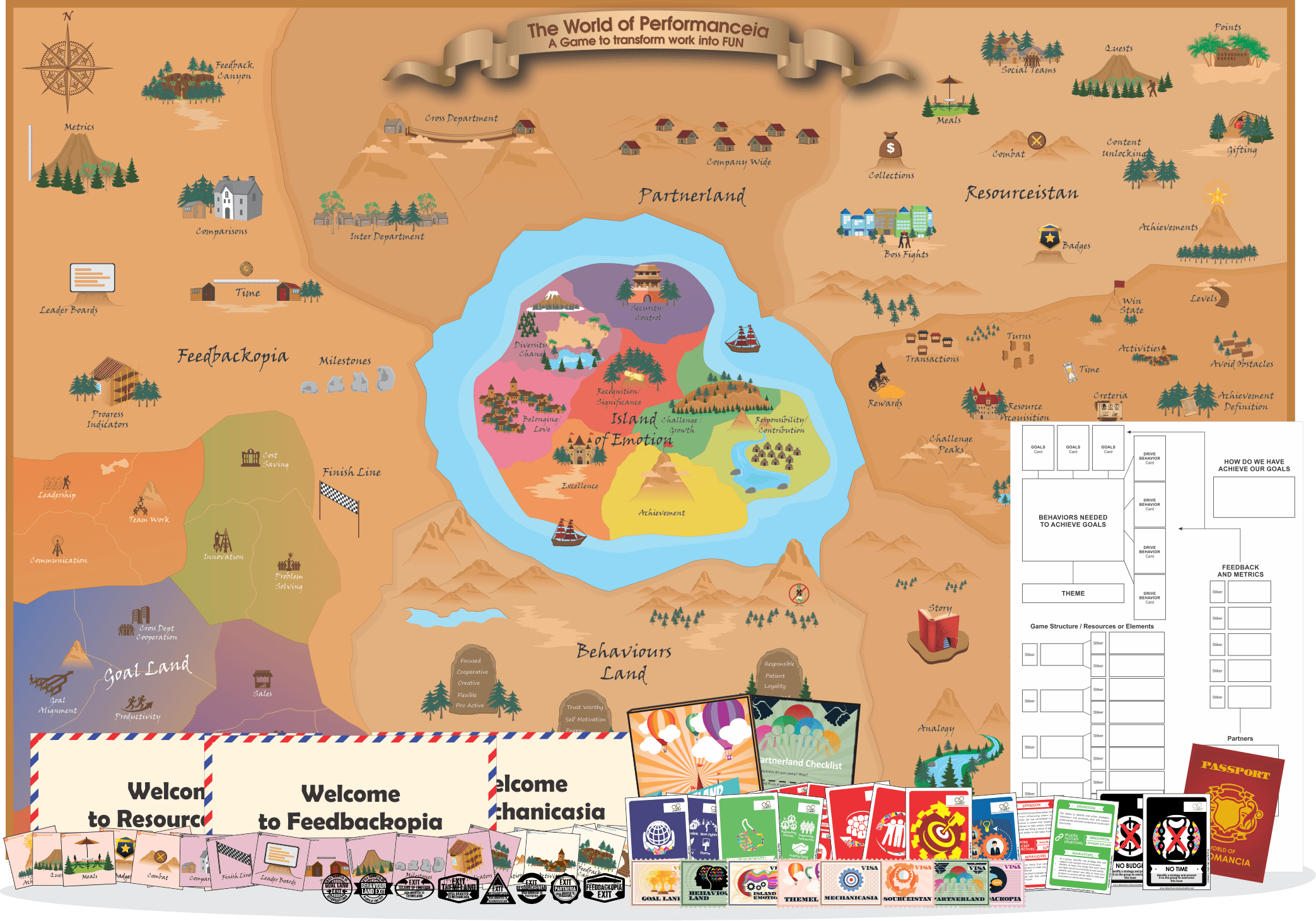 Performencia Work Gamification Game
The #1 reason Leadership Training, Coaching and Consulting doesn't work is that "most" training, coaching and consulting is outdated. We are now in the age of instant and the era of information overload. Skills can easily be learned on Youtube and you have instant messages and instant gratification from likes and shares on an hourly basis if you want… we are less patient than we used to be and it takes more "emotion" to get us to pay attention… and much of the training, coaching and consulting industry has not caught up with the new set of perceptions and expectations…
In fact, according to ASTD, over 65% of what is learned in training is NOT implemented back in the organization and only 3% has an organizational impact (even when 95% "like" the training)… Harvard Business says: unless coaching remains consistent over the long term, over 71% of actions we take from coaching will not become habit… and Gallup even shares that 78% of consulting initiatives are never fully implemented…
…And yet another ASTD Study shows that of All Training, Leadership training has the Lowest transfer rate of any other soft skill.
So this kinda sucks if you are a coach, trainer or consultant, and especially if you are doing leadership training, coaching or consulting.
…but there is a solution and it is hidden in your everyday actions and reactions.
Think of your behavior, attitude and passion change in different groups: your friends, your family, you other friends, work… Do you have different behaviors in each of these groups? In some groups, we are unstoppable, wise and thoughtful, in others we are committed and do not procrastinate, and yet in others, we are great leaders… but in some, we are the exact opposites of these and negatively affect others in these groups!
Why?
According to the DC Psychology, the science of group dynamics and an ongoing and living leadership and organizational culture discipline, it is all about HOW you are affected by others, HOW you affect others, and HOW to understand a psychology of these groups to bring out the best in you and the team, in short, it's about your "Environment".
There are 4 keys to creating an environment that supports awesomeness.
We must know the main factors that affect why and how people act and react to each other in groups, there are 2:

understand the communication processes and interpretation of our team members, this is achieved by identifying the brain's genetic Ambiguity Relief process… How a person achieves clarity
understand Why people do what they do, the Emotional Drivers that form their decisions

Then we gamify both, the training, coaching or consulting, and the implementation of leadership and its associated skills
Make the gamified process and outcomes relevant for the Personal Development of the individual in accordance with their own WHY and their own HOW
Provide them the structure and system to do this themselves so they have ownership
The combination of Fun, Personal Benefit through organizational objectives, Ownership, a greater understanding of how and why we are affected (and affect) others in groups, and Solving Real Problems that affect us emotionally… gives us the foundations to connect LIFE to WORK and personally grow in the process.
It is important to know that "Work Gamification" is not about games, it is about psychology and processes that transforms personal and group effectiveness in to fun… and connects action to a sense of personal value and fulfilment.
To see more information on work gamification watch https://youtu.be/OThxnRIcIvo
But how do you incorporate this into Training, Coaching, and Consulting?
By incorporating the gamification creation into the training, coaching or consulting process from the beginning by identifying and connecting solutions for personal issues (identified personally by the stakeholders themselves), getting them emotionally connected and excited about what happens when they do solve these issues, and if possible, include tools that gamify implementation… we will engage them into the implementation form the very beginning.
An example of a tool to support this is:
The Colored Brain system connection people through supporting understanding and success
Most tests are individual and results (if not too complicated) are shared with colleagues if and when there is time. CBCI is set up to make it SUPER EASY to understand and use with ENTIRE teams with the system not only connecting everyone and showing the results and how those results affect your communication and effectiveness of working together… but also provide a platform for EACH team member to solve communication, leadership, productivity and relationship issues with each other… and do so at the click of a button. So it is EASY to get a manager to buy this for their entire team, and it is affordable enough so they can make their own fast decisions to improve team effectiveness. 
See Arthur Carmazzi on the Global Gurus list in Leadership
And More Arthur Carmazzi on Organizational Culture